Celebrating 36 years of World Famous Fish & Chips!
---
A summer tradition in Victoria since 1984!
Barb's is actively working towards flattening the curve. We've put an Covid Safety Plan into place that provides your family with the fresh healthy Barb's meals you love combined with a commitment to strict protocols to keep everyone healthy. The open air sterile PICKUP Window is a safe way to have a restaurant experience without all the fuss. Read more about our health and safety protocol plans here.
Barb's Fish & Chips is floating in Victoria BC's Inner Harbour at the vibrant Fisherman's Wharf. Enjoy watching all the activity – fishing, sail, charter and house boats, seals playing in the harbour, sea planes taking off and landing – as you sit at open-air picnic tables eating Barb's tender-crisp pieces of halibut, cod or sockeye salmon and fries.
We pride ourselves in serving quality, freshly made food. All our burgers, chowder, dips, dressings, carrot cakes and famous chocolate chunk cookies are made in our prep kitchen and brought daily to the restaurant. And our friendly crew is the best!
Barb's Fish & Chips Seafood Restaurant opened in 1984 and we have continued to grow and expand ever since. Word of mouth and positive community support have helped make us a landmark in Victoria, being voted #1 'Best Fish and Chips' for the past 36 years.
No content was found for the current ursername(s) and/or hashtag(s).
"Your meal will be perfect EVERY TIMEif not, we'll make it right!"#EatAtBarbs
All of Barb's packaging is fully compostable. We care about the environment! #NoPlasticStraws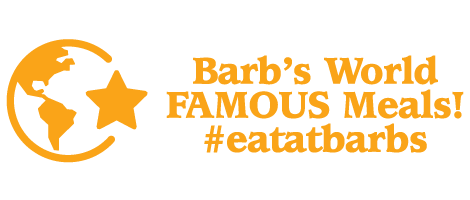 Download the Barb's App!
Advance order & pickup at the online order window!
Barb's COVID-19 Response
Barb's has been actively working towards flattening the curve for the past several months and due to the large demand for delivery requests from our local neighbourhoods we've put an action plan into place that is going to provide you with the fresh healthy Barb's meals you love combined with a renewed commitment to strict safety protocols to keep everyone healthy.
You can order your favourite
Barb's Fish & Chips online
and collect at Fisherman's Wharf. You'll notice that the Harbour Authority has installed a hand washing station at the dock entrance and there will be social distancing markers in place and enforced for visitors to the dock that are collecting their orders.
We welcome pickup order drivers to park for 5 minutes or less on the wooden dock at the top of the ramp to avoid parking fees when collecting their order.
If your preference is to stay home, you can select your delivery team and select from our menu on their website or find us in their app to process the order. Currently available with
UberEats
,
Skip the Dishes
and
Doordash
.
Take advantage of the nice weather, order in and enjoy a family picnic in the backyard complete with Barb's World Famous Fish & Chips (and coleslaw, garlic toast, AND seafood chowder!)
#barbsbackyardpicnic
We love you Victoria and our amazing team has implemented strict protocols to make sure you and your family can safely enjoy the summer time food you love!
Our team pledges to eat local, buy local & shop local!
---
Thank YOU
FOR SUPPORTING SMALL BUSINESS
Open for Dockside Dining

everyday 11am - 7pm

Sterile Pickup Window

to collect takeaway orders

Chefs are Screened

before entering a secure kitchen

Protective Equipment

for kitchen staff

Contactless Meal Delivery

we'll drop and go

Individual Wrapping

for each part of your order

100% Compostable Packaging

eco friendly takeaway containers

Cashless Service

pay for every order with credit card

Supporting Local Suppliers

that respect health & safety protocols

Social Distancing

protocols in place on site

Hand-washing Station

at the dock entrance